Collection of materials that may be handy to have printed out in Edukata workshops.
Sticky-note legend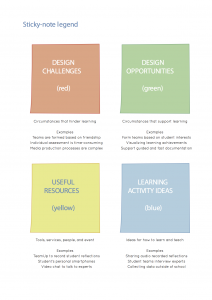 Edukata workshops use sticky-notes as a working tool. You'll need four colors of sticky-notes to get the full help from color coding ideas. The colors are read, green, blue, and yellow. When working with new participants, it's helpful to have a legend visible. Download the Edukata sticky note legend in PDF format (US Letter).
Learning Activity authoring
When you are starting to compose Learning Activities, it may be helpful to show participants the Edukata Learning Activity checklist, which shows properties that good Learning Activities have. If your participants prefer to jot down Learning Activity contents using pen and paper, you may print out the Edukata Learning Activity template.
More materials will be added here shortly…